Summary of World Sensors Summit (WSS)
Dec 16,2019
I Summary of WSS 2019
Upon official approval by the Henan Provincial People's Government and the Zhengzhou Municipal People's Government, the "World Sensors Summit" (WSS) was initiated by the China Instrument and Control Society (CIS), the Intelligent Sensor Innovation Alliance and the Administrative Committee of Zhengzhou National High & New Technology Industries Development Zone in April 2018, and scheduled to take place in Zhengzhou annually.
WSS 2019, hosted by CIS, took place at the Zhengzhou International Convention & Exhibition Center from November 9 to 11, 2019. With the theme "Sensing the World, Winning the Future" and a total area of 18,000 square meters, the summit brought together over 300 Chinese and foreign enterprises from 20 countries and regions such as the U.S., Germany, Japan, the UK, France, Italy and Russia, exhibited over 2,000 types of sensor products, and attracted over 15,000 professionals (over 21,000 person times). Over 20 enterprises such as Foxconn, Gree, Relations Instruments, Yutong, Zhengzhou Metro, Synear, Shuanghui and Sanquan participated in the summit. Made up of meetings, an exhibition and competitions, the summit met the needs of all walks of life.
"Meetings" refer to the main forum and sub-forums. At the main forum-Global Sensor Summit, 6 experts from 6 countries including China, the U.S., Italy, Japan, Germany and Ireland delivered keynote speeches on technologies, hot issues, knotty problems, solutions and future trends of sensors, as well as sensor application at home and abroad, with the participation of over 1,800 attendees.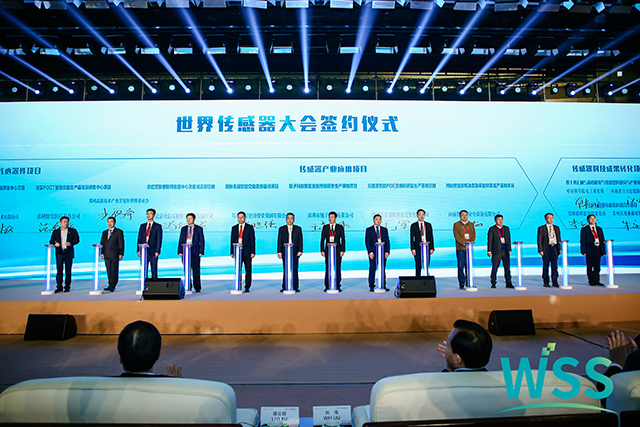 The 12 sub-forums covering sensor technology, component, standard and sensor application in a wide range of fields met specific needs of all professional visitors which returned with fruit results. Besides, 16 enterprises appeared at new product and technology launch conferences with 16 new sensor products and technologies, to add unique splendor to WSS 2019. With a total audience of over 4,000, the sub-forums created a favorable atmosphere, and brought international academic and industrial resources to local enterprises, universities and research institutes in forms such as conference and exchange. Henan gained favorable resources from WSS 2019.
An "exhibition" refers to 2019 World Sensors Exhibition. With a total exhibition area of 18,000 square meters, it attracted nearly 300 domestic and foreign enterprises, including Fortune Global 500 and other world-renowned sensor manufacturers like Panasonic, Siemens, GE, Microsoft, Omron, Honeywell, JD and CNPC; as well as renowned domestic and foreign industrial enterprises like Baidu, Fluke, E+H, Lanbao, Hanwei, EC Sense, Yudian and NewPwr. They represented the high level of the global sensor industry.
"Competitions" refer to the competitions during WSS 2019: 2019 "Sensing the World" World Sensor Innovation Conference and 2019 (1st) China IoT Access Competition. The former selected 44 outstanding entries into the final from over 200 sensor enterprises. The latter, divided into the enterprise category, the university category, the higher vocational category and the juvenile category, selected 32 out of 109 teams into the final.
II Plan for WSS 2020
Name: 2020 World Sensors Summit
Time: July 2020
Venue: Zhengzhou International Convention & Exhibition Center
Scale: main forum (1,200 attendees), 18,000m2 (exhibition area)