The 5th Nuclear Power Instrumentation & Control Technology
Aug 01,2019
The 5th China (International) Conference on Nuclear Power Instrumentation & Control Technology (CNPICT 2019) took place in Shanghai from June 18 to 20, 2019. Organized by the China Instrument and Control Society (CIS) and the Chinese Nuclear Society (CNS), CNPICT, an international conference, is designed to follow the trend of China's nuclear power development, improve China's nuclear power instrumentation and control technology, and is geared to international practices. Starting in Beijing in 2009, the conference has taken place in Shanghai, Xi'an, Beijing and other cities every two years.
CNPICT 2019 came amid the prosperity of China's nuclear power industry, received positive response and got strong support from the industry. With the theme of "Safety, Green, Collaboration, Innovation", CNPICT 2019 attracts domestic and foreign experts to discuss and analyze nuclear power instrumentation and control technologies and development. The conference, including 10 sessions, received over 300 papers from enterprises, universities, research institutes, equipment suppliers and other entities, covering a wide of fields such as technologies, standards, equipment appraisal, current situation and trends of nuclear power instrumentation and control.


In this conference, numerous domestic and foreign experts were invited to make presentations on the development of China's nuclear power instrumentation and control, discuss opportunities and challenges in fields such as nuclear power instrumentation and control, chip, information security, talent training and intelligent interaction. The conference not only serves as an authoritative communication platform in the field of nuclear power instrumentation and control, but also is a window through which attendees learn about the development of other industrial technologies. Zhang Tong, Secretary General of CIS, hosted the opening ceremony. Yu Jianfu, Secretary General of CNS, delivered an address on behalf of the two sponsors.
On June 19, 11 domestic and foreign speakers in the field of instrumentation and control were invited to deliver keynote speeches. These speakers, from different perspectives and industries, probed into nuclear power and the nuclear power industry.
Ye Qizhen, Member of the Chinese Academy of Engineering and Chairman of the Conference, comprehensively reviewed the history and current situation of China's nuclear power development. With focus on China's independent third-generation nuclear power technologies-Hualong One and CAP1400, he predicted the influence and trend of future nuclear power technology development from the features and R&D of advanced technologies, the progress of validation and construction, as well as the application of advanced materials, intelligence and other technologies. In addition, his presentation introduced the development route and progress of fourth-generation nuclear power technologies represented by high temperature gas cooled reactor and sodium-cooled fast reactor. At last, he introduced the future development and application prospect of modularized small reactors as a hotspot of international innovation and R&D.
Prof. Chu Jian from SUPCON Technology Group Co., Ltd. made a presentation titled Nuclear Power Informatization and Information Security. Facing the increasingly worsened cybersecurity situation and the problem of information security confronting core control systems, aiming at security problems of nuclear power automation in such aspects as equipment, network, control, application, data and personnel, the presentation proposed an industrial control system information security system based on in-depth defense and integrating software with hardware, to safeguard nuclear power construction.
Guo Aihua, Operating Director of Shanghai Institute of Process Automation & Instrumentation Co., Ltd., analyzed the impact of the electromagnetic environment of the nuclear power instrumentation and control system from practical operation technology, and offered the operation scheme.
With the rapid development of big data processing and AI, the pattern of international manufacturing is reshaping, different countries have mapped out corresponding intelligent manufacturing strategies, and intelligent nuclear power has become an inevitable choice for the development of China's nuclear power industry. China Techenergy Co., Ltd., State Nuclear Power Automation System Engineering Company, Ltd., CNNC Xi'an Nuclear Instrument Co., Ltd. and Nuclear Power Institute of China made presentations from different fields. Looking into the future, we will keep forging ahead to bring Chinese nuclear power equipment to a new level. To build more safe and reliable nuclear power instrumentation and control products, we should, based on the requirements, existing advantages and challenges of nuclear power intelligence, carry out exploration and practice analyses in three aspects: intelligent products, intelligent manufacturing and intelligent services. At last, based on practical experience, they summarized the construction of nuclear power instrumentation and control intelligence, and looked into its future.
Professors in domestic nuclear power universities were also invited to make presentations in different fields. Prof. Xia Hong, Dean of the College of Nuclear Science and Technology, Harbin Engineering University, analyzed the adjustment of the national energy strategy, China's nuclear power development, the needs of the nuclear power industry for professionals in fields such as research, design, construction, supervision, operation and radiation protection, as well as professional training. She also offered suggestions on problems existing in China's nuclear power talent training.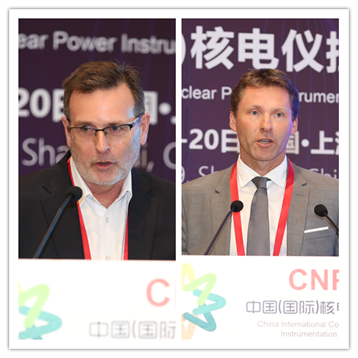 The conference also invited foreign nuclear power instrumentation and control experts from countries like the U.S. and France, to introduce the current situation of nuclear power instrumentation and control abroad, as well as respective companies and institutions.
During the conference, a special exhibition area was set up to showcase the latest research findings, products and application practice cases. Through face-to-face communication with exhibitors, the attendees acquired better knowledge of their products.
Ten parallel sessions, including "Operation, Maintenance and Renovation of Nuclear Power Instrumentation and Control Systems", took place on the morning of June 20. Over 70 speakers discussed different fields of nuclear power instrumentation and control, and analyzed the current development of nuclear power instrumentation and control.
On the afternoon of June 20, the attendees visited the EMC Laboratory, Flow Laboratory, Climate Environment Laboratory, Explosion Suppression Laboratory and Intelligent Manufacturing Exhibition Center. Through demonstration and narration, they learned about the development and achievements of China's advanced technologies.
China's nuclear power industry is in a critical period of rapid development. The success of the conference and the targeted presentations of the speakers laid a solid foundation for the development of the nuclear power industry. We expect that more and more professionals would join in the development of China's nuclear power industry, to jointly promote the rapid development of the industry.